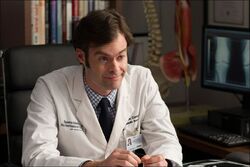 Dr. Aaron Conners
is the love interest to Amy Townsend in the comedy
Trainwreck.
He is played by Bill Hader.
Biography
Edit
Aaron is a surgeon who operates on atheletes. Amy is tasked with interviewing him on his work, but due to her issues with men, it quickly leads to dating and sex. Amy tries to keep thing professional, but when her elderly father has an accident during an interview, Aaron rushes with her to check on him and they bond. After this, Amy and Aaron start dating seriously.
Things begin to sour as Aaron meets Amy's acquaintances and learns that she's cheated on past boyfriends. When Amy's father dies, she goes into grieving and can't handle Aaron's affections. Her boss tells her to cancel the article on Aaron due to lack of interest. When Aaron receives an award for recognition, he gets up to make his speech and is distraught when he sees Amy run out to answer her phone and smoke weed. Amy wants to end the relationship but Aaron tells her they can work through this. Amy then keeps Aaron up all night while she gets all of her tension off her chest. Aaron then has one of his patients cancel an operation because he doesn't trust a sleep-deprived surgeon. When Aaron tells Amy about this, Amy tells him that since his article was cancelled, they have no reason to keep seeing each other and they split up.
After some time apart, both Amy and Aaron get their lives back together. Amy sells her story to Vanity Fair and sends Aaron the published article. At the game of one of his patients, Aaron sees Amy among the cheerleading squad awkwardly trying to dance. They patch things up and become a couple.
Ad blocker interference detected!
Wikia is a free-to-use site that makes money from advertising. We have a modified experience for viewers using ad blockers

Wikia is not accessible if you've made further modifications. Remove the custom ad blocker rule(s) and the page will load as expected.