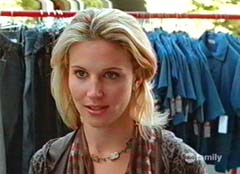 Ally Samuels is the new love interest of Jack Landors from Power Rangers SPD.
Her Story
Edit
Jack first sees her and thinks she is a thief, but Ally explained that she worked for her father's store. Jack apologizes and starts to leave, but she asks if he could help her with the work, and Jack agrees.
He spends more time with her, showing they he loves her and she loves him.
After the final battle against Gruumm and Omni, Jack offically resigned from SPD and went into business with her, presumably dating. When Piggy got in to business with Ally and Jack, he placed his hand on Ally's shoulder and then Jack smacked Piggy's hand and it is unknown if Jack is jealous of Piggy or not.
Ad blocker interference detected!
Wikia is a free-to-use site that makes money from advertising. We have a modified experience for viewers using ad blockers

Wikia is not accessible if you've made further modifications. Remove the custom ad blocker rule(s) and the page will load as expected.