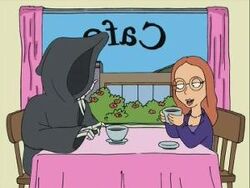 Amy was the owner of a pet store in "Death Lives". Death fell in love with her while killing her father.
Peter Griffin helps set them up on a date, but she proves to be so annoying when she discussing animals that Death ends up killing her. She was voiced by Laura Silverman.
She used to be a love interest of Death until at the end, Death kill her.
Ad blocker interference detected!
Wikia is a free-to-use site that makes money from advertising. We have a modified experience for viewers using ad blockers

Wikia is not accessible if you've made further modifications. Remove the custom ad blocker rule(s) and the page will load as expected.