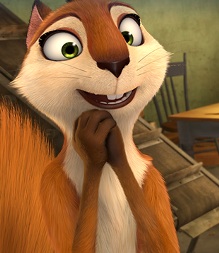 "We are NOT a pack of wild animals!" - Andie
Andie is the deuteragonist and love interest (later girlfriend) of Surly in the animated film The Nut Job and one of the tritagonists of the sequel in The Nut Job 2: Nutty by Nature.
The Nut Job
Edit
With a loving heart, radiating warmth, and nurturing disposition, it's no doubt that the animals of the park look up to Andie and believe in her, all except Surly.
Basically, she's the mother hen of the group. The amount she puts into her work is admirable. Whether it's helping other animals, solving riddles, or lending a helping paw, Andie is becoming a workoholic.
Even though she serves the evil powerful crime lord Raccoon with Grayson, Mole, and the Bruisers, all she wants is for everyone to get along.
Andie must choose between two paths, which will either put her in severe danger or lead this courageous red squirrel to be in charge of the park she's already "nuts about it."
The Nut Job 2: Nutty by Nature
Edit
Relationships
Edit