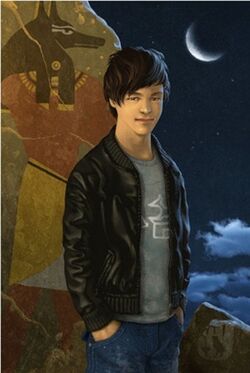 Anubis is the God of Death and Funerals in Egyptian mythology and a love interest of Sadie Kane in The Kane Chronicles book series.
Sadie first met Anubis in her ba travels and fell in love with him at once and Anubis eventually returned the feelings. However, Anubis's great-grandfather, the Wind God Shu tried to keep the two apart as Gods cannot have relationships with mortals unless they are hosting a human body.
Luckily Anubis was able to resolve this by merging with Sadie's other love interest Walt Stone in order to keep Walt from dying from a curse and so Sadie wouldn't have to choose between them.
Ad blocker interference detected!
Wikia is a free-to-use site that makes money from advertising. We have a modified experience for viewers using ad blockers

Wikia is not accessible if you've made further modifications. Remove the custom ad blocker rule(s) and the page will load as expected.