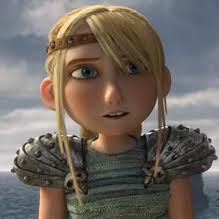 Astrid Hofferson is the love interest of Hiccup in the Dreamworks movie, How to Train Your Dragon. She is a Viking girl of the Hairy Hooligans tribe who is a fellow student of Hiccup and other Viking teenagers in Dragon Training. At first, she finds Hiccup annoying and is envious of him when he becomes the most popular student in their class. She at first accuses him of cheating. When she discovers his friendship with the dragon Toothless, she is at first furious until she spots their true colors. She soon helps him keep the secret. The two begin to bond, and soon fall in love.
In How to Train Your Dragon 2, it is announced that Astrid and Hiccup are engaged. They kiss a couple times.
Astrid is voiced by America Ferrera.