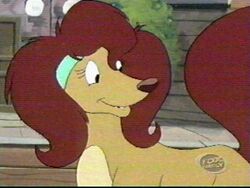 Bess
is the love interest of Itchy Itchiford in 
All Dogs Go to Heaven: The Series
. She is a Cocker Spaniel, and she had few appearances on the show. Her first was "Cyrano de Barkinac." She once met 
Sasha La Fleur
 in her second appearance, "Mutts Ado about Nothing." She has more patience with Itchy than Sasha does with Charlie.
Bess is also the object of desire for a bullying dog named Manfred, as shown in their debut episodes and "Fearless Fido." Her last appearance was in "Bess and Itchy's Dog School Reunion." It is never explained why she only appeared four times, nor does she ever sing.
Bess was voiced by Tress MacNeille.