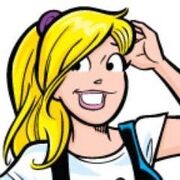 Betty Cooper is the third tritagonist in the Archie comic series. Her best friend (and occasional rival) is Veronica Lodge and has a crush on Archie.
She is a member of The Archies, Archie's music group, usually as its tambourine player (although in some recent comics, she has been seen as the group's second guitar player).
Ad blocker interference detected!
Wikia is a free-to-use site that makes money from advertising. We have a modified experience for viewers using ad blockers

Wikia is not accessible if you've made further modifications. Remove the custom ad blocker rule(s) and the page will load as expected.