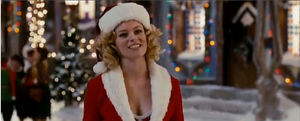 Charlene is the love interest of Willie in Fred Claus. She's a female santa helper she was welcomed Fred at his arrival but she never remember the name of Willie. Because Willie is too shy to talk to her fear of be rejected by her. But fred wanted to help Willie by impressed her by dancing but Willie fall on a table and failed to impressed her. Willie run out the bar in anger sure he make a fool of himself. Later after Willie came back with Fred after the delivery of all gifts for all chidrens was finally all deliver Willie kissed charlene who now remember his name. later at the end of the movie they are finally a couple.
Ad blocker interference detected!
Wikia is a free-to-use site that makes money from advertising. We have a modified experience for viewers using ad blockers

Wikia is not accessible if you've made further modifications. Remove the custom ad blocker rule(s) and the page will load as expected.