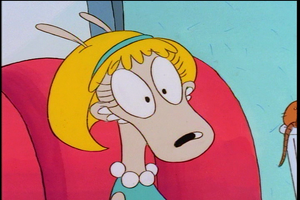 Claudette
was one of Rocko's crushes in
Rocko's Modern Life.
Biography
Edit
Rocko travelled to France with Heffer in the hopes of finding some romance. On the ride, he fantasised about meeting a French wallaby. While on the tourbus, he caught sight of Claudette, the wallaby from his fantasy. Realising that this must be destiny, Rocko abandoned the tour and chased after her. After a lengthy pursuit, Rocko lost sight of Claudette. Upset, he confided his angst to a local Frenchman, who told him that all cheesy love stories end at the Eiffel Tower, so Claudette was most likely there. Regaining his drive, Rocko ran to the Eiffel Tower, being cheered on by all of France. As soon as he got to the tower, Rocko was shocked to find that it had become a fast food venue. He saw Claudette sitting with Heffer, but she had more in common with Heffer than with Rocko. On the ride home, Heffer brought up the possibility that Claudette might like Rocko, but he'd rather stay pen-pals and continue persuing Melba.
Ad blocker interference detected!
Wikia is a free-to-use site that makes money from advertising. We have a modified experience for viewers using ad blockers

Wikia is not accessible if you've made further modifications. Remove the custom ad blocker rule(s) and the page will load as expected.