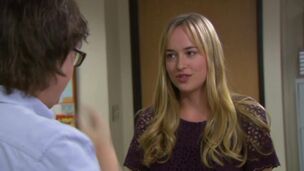 Dakota is the love interest of Clark in the final episode of The Office.
Biography
Edit
Dakota is a new employee that Dwight hires sometime after becoming manager. Not much is known about her, but it's assumed that she works in accounting. She and Clark quickly hit it off. When Clark is offered a job at a film studio, he declines while watching Dakota from across the room, implying that he'd be happier just having a relationship than chasing fame.

Ad blocker interference detected!
Wikia is a free-to-use site that makes money from advertising. We have a modified experience for viewers using ad blockers

Wikia is not accessible if you've made further modifications. Remove the custom ad blocker rule(s) and the page will load as expected.