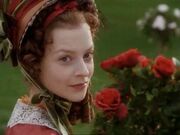 Dora Spenlow
is the first love interest of David Copperfield in Charles Dickens' book of the latter's same name, and certain film adaptions. She is adorable, but a simpleton, and she is the daughter of an attorney. Dora becomes David's first wife and has children, but dies on the same day her aging dog dies.
Dora doesn't appear in the 1993 anthro-animals film adaption.
Ad blocker interference detected!
Wikia is a free-to-use site that makes money from advertising. We have a modified experience for viewers using ad blockers

Wikia is not accessible if you've made further modifications. Remove the custom ad blocker rule(s) and the page will load as expected.