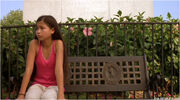 Emily is the love interest of Gavin in Labou. She was potrayed by Marissa Cuevas .
Emily first meets Gavin in the school bus. She sees Gavin does not believe the story of Lerouge, Toddster, her neighbor, told them about. She also didn't believe Toddster's story. But Toddster told them to meet him at the park during the afternoon. She accept to camp out with Gavin, to proove Toddster is wrong about Lerouge, but they also discovering Labou and Clayton during their quest for finding the treasure. On their camping trip, Emily and Gavin become close, and finally became friend with Toddster when they save him, and he admits he was taking the plan first before Labou took it from him. But at the end of the movie is seen Emily and Gavin are in a relationship's, but is also seems to be unofficial.
Ad blocker interference detected!
Wikia is a free-to-use site that makes money from advertising. We have a modified experience for viewers using ad blockers

Wikia is not accessible if you've made further modifications. Remove the custom ad blocker rule(s) and the page will load as expected.