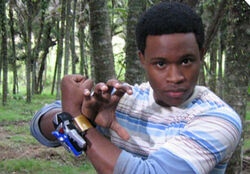 Ethan
is the Blue Dino Thunder Ranger in P
ower Rangers Dino Thunder
. He is the love interest of Angela
His Story
Edit
He's the blue Dino ranger and he became the boyfriend of Cassidy in the half of the season. He was really in love with her and he was really romantic.
When he took her to a romantic picnic he wanted to keep their relationship safe. But after the picnic, Cassidy decide to break up with him the day after the picnic and just stay in good terms which Ethan was okay with.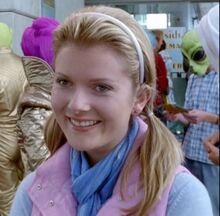 At the end of Dino thunder, when Ethan decided to go to a movie theater instead of the prom based on his view of the torrential process of prom tradition, he met with another blonde caucasian girl there, named Angela at first they were okay to watch the movie together until Zeltrax came back in which he had to leave. But after rethinking the prom thing he and Angela went to prom together as they also was there to cheer for Kira who was playing at the prom.
He returned in Megaforce, but didn't take off his helmet.
Ad blocker interference detected!
Wikia is a free-to-use site that makes money from advertising. We have a modified experience for viewers using ad blockers

Wikia is not accessible if you've made further modifications. Remove the custom ad blocker rule(s) and the page will load as expected.