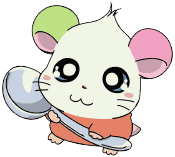 Gelato (ジェラードちゃん, Jerādo-chan) is a Ham-Ham who claims to be not from Earth but from a magical place in the clouds. Gelato describes this place as very "fluffy". She also says she is the princess of this place. She is owned by an ice cream vendor. In later Japanese episodes, Gelato is shown to have an infatuation with Boss, who strongly shows evidence of having Gelato as his new crush, however this crush was short-lived.
She is designed to look like an ice cream, with her ears and head as scoops of ice cream and her orange body as the cone.
She appears in Fluffy Gelato and Gelato's Chestnut Army.
Ad blocker interference detected!
Wikia is a free-to-use site that makes money from advertising. We have a modified experience for viewers using ad blockers

Wikia is not accessible if you've made further modifications. Remove the custom ad blocker rule(s) and the page will load as expected.