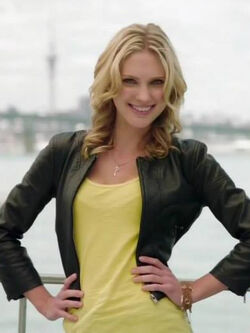 Gia is the girlfriend of Jake Holling from Power Rangers: Megaforce and Power Rangers: Super Megaforce.  
Her Story
Edit
She is one of the five adults to be chosen by Gosei to save the world from the Warstar Aliens.
She first fights alongside her team against Scaraba.
She and Jake flirted with each other and saw Alien ships capturing humans. She and Jake had to follow them.
In
Super Megaforce
, Jake saves her from falling off the sky ship while finding Anamaria, showing that he has feelings for her.
Gia also returned her feelings to Jake after she, Jake, Orion and the other rangers defeated Skeltox. After the final battle with the Armada, she kisses Jake on the cheek showing that she loves him.
The presumably start dating after they defeat Emperor Mavro
She is shown to have a crush on Jake for the entire season.
She is also best friends with Emma Goodall.
Ad blocker interference detected!
Wikia is a free-to-use site that makes money from advertising. We have a modified experience for viewers using ad blockers

Wikia is not accessible if you've made further modifications. Remove the custom ad blocker rule(s) and the page will load as expected.