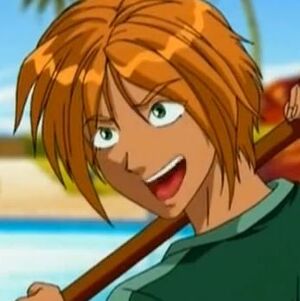 A character from the popular TV-series, Totally Spies!.
Biography
Edit
Guillaume's a French pool boy who appears in "Evil Valentine's Day" and then returns in "Evil Shoe Designer." It's shown that Guillaume apparently can't speak English, but seems to understand it (if only a little).
For most of "Evil Valentine's Day," Alex and Clover are smitten with Guillaume and they think he has a crush on one of them. However, after Jerry (who's fluent in French) translates what Guillaume is saying into English, they realize that he's not into any of the girls, but just his work as a pool boy.
While Jerry and the girls are at Euro-WOOHP headquarters in Paris, France, they reunite with Guillaume in "Evil Shoe Designer," where for most of the episode, the girls think that Guillaume's got a crush on Sam. But at the end, it turns that Guillaume just wanted to make Sam his apprentince in his pool cleaning duties as she anatomically perfect for the work itself.
In his debut episode, it's shown that he doesn't know how to swim.
According to an interview with David Michel, Guillaume was created by Bob and Michelle and was named after a development executive of the same name.