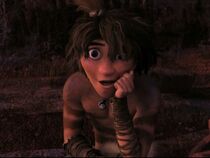 Guy is the love interest of Eep in The Croods. He is a genius who invents certain things, like shoes... in fact, he wears a pair of boots that happen to look like they have claws on them. He also wears a sloth over his pants like a belt (thus his pet's name, Belt) he and eep meet when she finds his fire and after he explains the end is coming takes her to tomorrow and after they become trapped she agrees along the way the two fall in love with each other which guy called after they found a lake and they stripped naked and swim together before kissing happily which he calls after they do it when they reach Tomorrow eep and guy make out with giggling and moaning heard from behind the bushes where their clothing was leaf.
Ad blocker interference detected!
Wikia is a free-to-use site that makes money from advertising. We have a modified experience for viewers using ad blockers

Wikia is not accessible if you've made further modifications. Remove the custom ad blocker rule(s) and the page will load as expected.