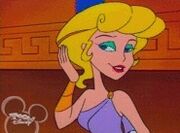 Helen of Troy is a character on Hercules: The Animated Series. She is a popular girl at Prometheus Academy and the girlfriend of Adonis, though she is very close friends to Hercules and generally a very kind person.
She was voiced by Jodi Benson and she was once the love interest of Hercules until she was the girlfriend of Adonis.
Personality
Edit
Helen of Troy is a very sweet character. She is a popular girl and is aware of her own popularity but does not hesitate to help others.
She is very beautiful and she is sweet towards everyone, popular and unpopular (Cassandra, Icarus, and Hercules). Helen may seem to be just sweet and not very smart, but in the episode "Song of Circe" she is shown to use her brain in disciplining Adonis.
Ad blocker interference detected!
Wikia is a free-to-use site that makes money from advertising. We have a modified experience for viewers using ad blockers

Wikia is not accessible if you've made further modifications. Remove the custom ad blocker rule(s) and the page will load as expected.