Love Interest



Full Name

Holly Flax

Alias

None

Origin

The Office (UK)

Occupation

Human Resources Representative at Dunder Mifflin

Powers/Skills

None

Hobby

Impersonations

Goals

None

Type of Love Interest

Workplace Romance
Holly Flax is the love interest of Michael Scott in the US version of
The Office
.
Biography
Holly Flax was originally from Colorado. When the current HR rep Toby announces his resignation so he can go travelling, corporate sends Holly to take his place in Scranton. Michael Scott initially thinks Holly will be a buzzkill due to the nature of her job, but is pleasantly surprised to find out that they share a similar sense of humour.
Holly later transfers to Nashua after the CFO notices her relationship with Michael. She stays there for two years before being called back to Scranton. When Holly finds out that her father is going senile, she decides to go back home to keep him company.
Romances
Michael Scott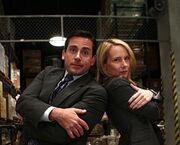 Michael and Holly form an instant attraction to each other built around their bizarre senses of humour. Michael thinks of Holly as his soulmate, a statement that the other office workers agree with. After the CEO finds out that the two are dating, he has Holly transferred. Michael and Holly initially decide to try a long-distance relationship, but relaise that the distance is too long and that they should call it quits. Holly thinks that Michael's opinion of their fling is overly romantic, but Michael disagrees with her as his last few relationships weren't nearly as fulfilling as the one he had with her.
When Holly returns to Scranton, their relationship is a rocky one, as she is dating someone else. After making herself single again, Holly and Michael open up to each other in the way they used to, though Holly is still reluctant to start dating Michael again. After Michael goes missing and only Holly can figure out where he might be, she realises that they are soulmates and they rekindle their relationship. When Holly decides to go home to Colorado to spend time with her aging parents, Michael proposes to her. The two then move to Colorado to start their new lives together.
Three years later, Pam reveals that Michael and Holly have had children together.
A.J.
Holly was briefly involved with a man known only as A.J. Their relationship isn't fully explored, but it was a major source of conflict for Michael and Holly. When Holly had to move to Nashua, she broke up with Michael, but when she came back to Scranton, she was still with A.J. Holly then breaks up with A.J., realising that the relationship wasn't going anywhere.
Ad blocker interference detected!
Wikia is a free-to-use site that makes money from advertising. We have a modified experience for viewers using ad blockers

Wikia is not accessible if you've made further modifications. Remove the custom ad blocker rule(s) and the page will load as expected.