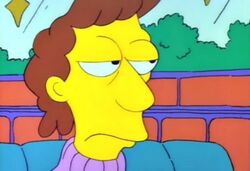 Jacques Cousteau
was a one-shot love interest for
Marge Simpson
from
The Simpsons
episode,
Life on the Fast Lane
. He started out as a Bowling Instructor. He first met Marge Simpson before he taught her how to bowl after she received a bowling ball for her birthday. At first, he is captivated by Marge and slowly tries to woo her. He becomes attracted to Marge after he asks Marge to return to her apartment. However, their relationship was not so great. Marge decided to return to her husband,
Homer Simpson
and Jacques ends up being alone.
Ad blocker interference detected!
Wikia is a free-to-use site that makes money from advertising. We have a modified experience for viewers using ad blockers

Wikia is not accessible if you've made further modifications. Remove the custom ad blocker rule(s) and the page will load as expected.