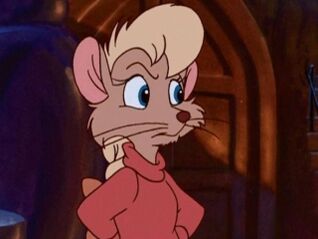 Jenny McBride is the love interest and girlfriend of Timothy "Timmy" or "Tim" Brisby and the deuteragonist of the unpermitted sequel, The Secret of NIMH 2: Timmy to the Rescue. While Tim is in Thorn Valley, Jenny is first seen trying not to starve while in a garbage can. Her goal is to rescue her parents from NIMH, as they had been recaptured by Dr. Valentine.
It is unknown whether Martin and Jenny have met or not, as Jenny mentioned "a rat in a cage next to her parents" and Timmy told her Martin was his brother.
Ad blocker interference detected!
Wikia is a free-to-use site that makes money from advertising. We have a modified experience for viewers using ad blockers

Wikia is not accessible if you've made further modifications. Remove the custom ad blocker rule(s) and the page will load as expected.