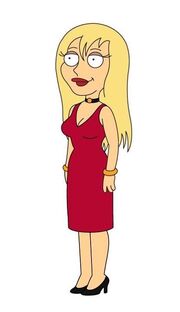 Jillian Wilcox, (born Jillian Russell), is an intellectually-challenged young woman of whom Brian Griffin dated.
She was portrayed as a stereotypical blonde woman; being low in intelligence, but making up for it with her attractiveness. She is one of the few characters to have full conversations with Stewie.
She used to be a love interest of Brian until they broke up and she move on. Then, she was married to her future husband, now dead: Derek Wilcox.
Ad blocker interference detected!
Wikia is a free-to-use site that makes money from advertising. We have a modified experience for viewers using ad blockers

Wikia is not accessible if you've made further modifications. Remove the custom ad blocker rule(s) and the page will load as expected.