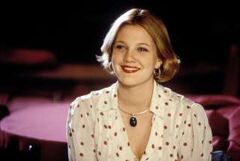 "I always just envisioned the right one being someone I could see myself growing old with"
- Julia Sullivan
Julia is the love interest for Robbie Hart in the 1998 romantic comedy film, The Wedding Singer. She is played by Drew Barrymore.
Biography
Edit
Julia is a waitress who caters to weddings, bar mitzvahs and other major events. She dreams of getting married, but is clearly a poor judge of character.
Robbie Hart
Edit
Julia and Robbie became acquainted over time as they frequently found themselves working together. They started off as friends, but after Robbie's fianceé dumped him on their wedding day, he spiralled into a depression. Julia offered him a soldier to cry on and they found themselves growing closer. After practising her wedding kiss on Robbie, he realised he was in love with her. Robbie then went about first trying to be successful like Glen but then decided to just be himself and serenaded Julia with an improptu song. The two then got married.
Glenn Gulia
Edit
Glenn was Julia's fianceé. He was handsome, successful and ready to settle down. Unfortunately, he was also a womaniser who took advantage of his business travels to cheat on Julia. Whenever they were on dates, he would sneak a glance at other women. His only reason for marrying Julia was because she was loyal, the very trait he refused to adhere to. When he found out that Robbie was in love with Julia, he and his friends beat him up. Julia finally realised that Glenn didn't appreciate her when while on a plane ride, he refused to let her sit in the window-seat while Robbie performed a song just for her.
Love Rivals
Edit
Linda was Robbie's ex-fianceé. She dumped him because he wasn't the big rock star she was hoping he'd be by the time they got married. She later had a one-night stand with Robbie, presumably because she enjoyed having him on the hook. Julia came over to Robbie's to admit she had feelings for him, only to see Linda at the door in his T-shirt. Assuming the worst, Julia planned to elope with Glenn, setting up the final scene. Robbie kicked her out for treating him like dirt and ran after Julia.
Ad blocker interference detected!
Wikia is a free-to-use site that makes money from advertising. We have a modified experience for viewers using ad blockers

Wikia is not accessible if you've made further modifications. Remove the custom ad blocker rule(s) and the page will load as expected.