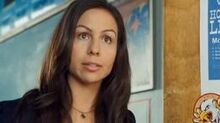 Julie Ortega is the home-room teacher of The Chipmunks at West Eastman High School in the second CGI/live-action film Alvin and the Chipmunks: The Squeakquel.
She has a friendly tone about her as she constantly smiles and talks calmly. After The Chipettes begin attending the school, she gives advise to them and The Chipmunks when it is needed.
She also convinces Eleanor to talk to Theodore when he is distressed about missing Dave. Julie was the love interest of Toby Seville during his high school days and once they bumped into each other, they worked somewhat awkwardly to get back together.
Ad blocker interference detected!
Wikia is a free-to-use site that makes money from advertising. We have a modified experience for viewers using ad blockers

Wikia is not accessible if you've made further modifications. Remove the custom ad blocker rule(s) and the page will load as expected.