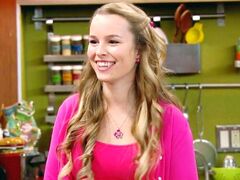 Juliet Van Heusen is a recurring character of the Disney Channel series, Wizards of Waverly Place. She is a an immortal vampire and is the daughter of Alucard and Cindy Van Heusen. She is also the main love interest of Justin Russo.
Relationships
Edit
Justin Russo
Edit
She first appears in Wizards vs. Vampires On Waverly Place and falls in love with Justin when she catches him spying on her family restaurant for his parents' restaurant.
The two fight their parents for their love (similar to Romeo and Juliet) and, soon, are allowed to date and have a relationship despite the feud between their different families.
Mason Greyback
Edit
Mason is Juliet's former boyfriend.
She is revealed to be 2,194 years.
Juliet has her powers and youth returned by Gorog.
Bridget Mendler is also well known for portraying Teddy Duncan from fellow Disney Channel series, Good Luck Charlie.
External Links
Edit