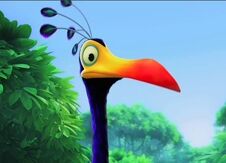 Kevin is a female snipe from a 2009 Disney / Pixar's movie Up. She is a rare bird in South America and a falsely love interest of Russell (the little boy who gives her chocolate). She also has her babies involved at the end of the movie after she is defeated against the poucher villain along with dog predetors.
Kevin is the only Pixar love interest (from Up) as a bird on this website, also she doesn't speak and she even has a love interest (not to bird) as a real boy (named Russell) just like Margalo to Stuart (commonly known as a mouse) from second movie.
Ad blocker interference detected!
Wikia is a free-to-use site that makes money from advertising. We have a modified experience for viewers using ad blockers

Wikia is not accessible if you've made further modifications. Remove the custom ad blocker rule(s) and the page will load as expected.