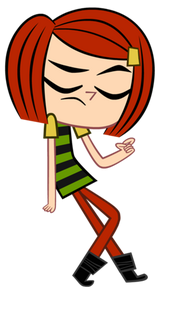 Laney Penn
is the love interest of
Corey Riffin
from the cartoon called
Grojband
. She is also the rock of this rock and roll band and is the only female member in Corey's band. She is the guitarist in Corey's band and she, Corey,
Kin
and
Kon
play songs after Corey's cruel older sister,
Trina Riffin
goes into diary mode. Laney has a huge crush on Corey that anyone can tell except for him. She appears to get lovestruck when she and Corey make physical contact. She and Corey had to fall in love as they sang at a wedding and fixing Kin and Kon's friendship, showing that Laney has romantic feelings for Corey and Corey shows that she loves her. She serves as the primary love interest for Corey in the entire series. She and Corey kissed in one episode and they both got lovestruck.
She is voiced by Bryn McAuley.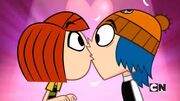 Ad blocker interference detected!
Wikia is a free-to-use site that makes money from advertising. We have a modified experience for viewers using ad blockers

Wikia is not accessible if you've made further modifications. Remove the custom ad blocker rule(s) and the page will load as expected.