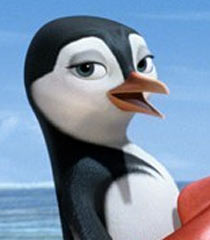 Lani Aliikai is the love interest of Cody Maverick from the 2007 animated film, Surf's Up. and from the 2017 animated film surf up 2 wave mania  She is also a lifeguard and is Big Z's niece.  She first meets Cody after Cody bumped into her while he angrily left the water.  She eventually persuades him to return.  She helps Cody build a new surfboard.  She then comes in and joins the crew.  During the finals, Cody and Joe were in a battle and Tank wipes him out.  Lani rescues Joe and Cody ended up being disqualified.  However, Cody didn't care about winning, but decided that he rather just have fun instead.  By the end of the film, she and Cody became a couple after Cody finishes the interview and joins Lani and his friends in the water.  She is both voiced by Zooey Deschanel.and melissa sturm
Ad blocker interference detected!
Wikia is a free-to-use site that makes money from advertising. We have a modified experience for viewers using ad blockers

Wikia is not accessible if you've made further modifications. Remove the custom ad blocker rule(s) and the page will load as expected.