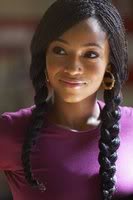 Larhette is the enemy and later become the love interest of Jason "Rock" Rockwell, she seem to not love Rock at all since their brothers where enemy, and she lived with her mom and all of her siblings. She seem to have problem with her mom companion, she hide in the school where Rock was, but she didn't seem happy to see him. After a other fight mr.Dulaine decided to make her partner with Rock, same if the first time they refused, but with the time she and Rock will developed feeling for each other, and finally became friends, they are finally partner for the dance competition, at the competition she was waiting for him. But sure that he will not come she feel sad, Pierre tried to help her , but she so upset that she really believe in the magic, but she it doesn't work for her belived that she's abandoned by everyone she love. then Rock finally go to the competition looking for her, at the end they finally dance togheter and kissed, at the credit they also dance togheter.
Ad blocker interference detected!
Wikia is a free-to-use site that makes money from advertising. We have a modified experience for viewers using ad blockers

Wikia is not accessible if you've made further modifications. Remove the custom ad blocker rule(s) and the page will load as expected.