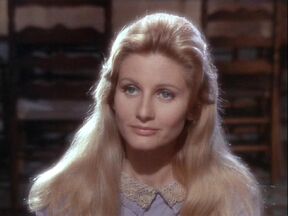 Leila Kalomi is the love interest of Mr. Spock from the Star Trek episode, The Side of Paradise.  She first met Mr. Spock while Spock visited Earth along with the crew of the Enterprise.  She loved Spock and begins romantic feelings toward him.  However, Spock refuses to let himself to express any emotion in return, but Kalomi continued her feelings for Spock.  She joined the Elias Sandoval's Omicron Colony as part of the group's botanist.  When the USS Enterprise arrived at Omicron Ceti III, She was eventually reunited with Spock.  She used her pod plants to infect Spock to admit his love for her.  Captain James T Kirk tries to reverse the effects on Spock, but Spock reduces his anger by hurting Kirk, until Kirk asks if he had enough yet.  Kalomi rejoins Spock, but Spock was no longer under the influence of the spores, she sadly broke down into tears.  She was later evacuated to Starbase 27.
Ad blocker interference detected!
Wikia is a free-to-use site that makes money from advertising. We have a modified experience for viewers using ad blockers

Wikia is not accessible if you've made further modifications. Remove the custom ad blocker rule(s) and the page will load as expected.