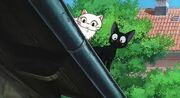 Lilly is the love interest and eventual mate of Jiji in Hayao Miyazaki's film Kiki's Delivery Service. She is a fat white cat. She doesn't speak, only meowing, though she does say "Hmph" when Jiji tries introducing himself to her. Her name is only revealed once when Kiki, Jiji's owner, asks him who she is with him. She eventually becomes a mother of several black kittens. It is unknown who did her voice in the original Japanese version or in either English dub.
Ad blocker interference detected!
Wikia is a free-to-use site that makes money from advertising. We have a modified experience for viewers using ad blockers

Wikia is not accessible if you've made further modifications. Remove the custom ad blocker rule(s) and the page will load as expected.