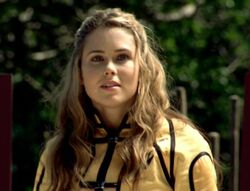 Lily Chilman is the love interest of Theo from Power Rangers: Jungle Fury.
Her Story
Edit
She was the captain of the Cheer Squad at her High School.
She first meets Theo while being a new student at the Pai Zhuq Academy.
She became the Yellow Cheetah Ranger and she and her teammates battle the Dai Shi plan.
She has a close friendship with Theo and it is revealed that she is shown to have a crush on Theo for the entire season.
After the final battle, Theo arrived and Lily happily responds to him, "What took you so long?" showing that she loves him and he loves her.
Ad blocker interference detected!
Wikia is a free-to-use site that makes money from advertising. We have a modified experience for viewers using ad blockers

Wikia is not accessible if you've made further modifications. Remove the custom ad blocker rule(s) and the page will load as expected.