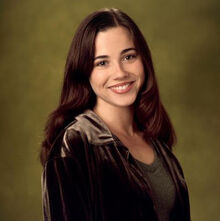 Lindsay Weir is the protagonist of the teen comedy series Freaks and Geeks.
Biography
Edit
Lindsay is one of the brightest students in her year, but due to disillusionment she's recently started slacking off on her studies and hanging with the hooligans, otherwise known as the "Freaks". Lindsay often acts as a moral compass to the other freaks, calling them out when they punch down or act aloof over serious issues.
Romances
Edit
Nick Andopolis
Edit
Nick was one of the freaks and probably the nicest of them. After being rejected at a band audition, Lindsay took pity on Nick and kissed him. They then started dating for awhile, but Lindsay was overwhelmed by Nick's obsessiveness and decided that she would rather stay friends. Nick then breaks down for awhile, but moves on with another girl and even stops smoking weed, but he and Lindsay never really go back to just being friends.
Neal Schweiber
Edit
Neal was one of the geeks. He'd had a crush on Lindsay for a long time, but was too shy to act on it. When Lindsay hosts a house party that goes awry, Neal admits his feelings for her, but Lindsay doesn't reciprocate. Neal's hopes are completely dashed when he sees Lindsay kissing his brother Barry
Barry Schweiber
Edit
Barry is Neal's older brother. He's known Lindsay as long as Neal has, but lost touch with her during his senior years. After entering college and reworking his nerd image to his advantage, Barry and Lindsay begin to connect. They share a kiss and it's implied that they may one day get together.
Ad blocker interference detected!
Wikia is a free-to-use site that makes money from advertising. We have a modified experience for viewers using ad blockers

Wikia is not accessible if you've made further modifications. Remove the custom ad blocker rule(s) and the page will load as expected.