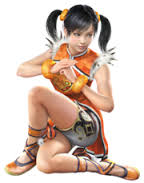 Ling Xiaoyu she is a Tekken Character Because she Like Panda Love Interest to Jin Kazama and Eat Dumplings and Steam Buns. She was a Chinese Girl but she only Like Wang Jinrei and Being as a Good Family as a Friend. In end of the Tekken 7 saga, She got married to Jin after both Heihachi and Kazuya by the hands of Akuma, aftermath battle between his father and grandfather.
Ad blocker interference detected!
Wikia is a free-to-use site that makes money from advertising. We have a modified experience for viewers using ad blockers

Wikia is not accessible if you've made further modifications. Remove the custom ad blocker rule(s) and the page will load as expected.