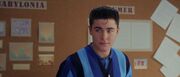 Link Larkin is the boyfriend of Amber Von Tussle and love interest of Tracy Turnblad and the tritagonist in the John Waters 1988 film Hairspray, its stage musical adaption of the same name, and the 2007 musical film of the same name. He later breaks up with Amber and replaces her with Tracy. In the John Waters film, he is played by Michael St. Gerard, while Zac Efron played him in the musical film.
Ad blocker interference detected!
Wikia is a free-to-use site that makes money from advertising. We have a modified experience for viewers using ad blockers

Wikia is not accessible if you've made further modifications. Remove the custom ad blocker rule(s) and the page will load as expected.