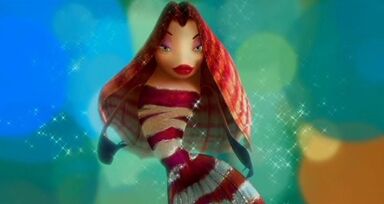 Lola is the ex-girlfriend of Oscar and the hidden secondary antagonist from the animated movie, Shark Tale. She is a lionfish. She first met Oscar when Oscar at the seahorse race track. He immediately becomes attracted to her. Sometime at a party, after Oscar fakes that he killed Lenny, when Oscar dumps Lola, she reveals her true nature and explains that she actually wanted his money. She then beats him up and the windows (while the other fishes laugh). Later, when Angie is on Don Lion's plate, she viciously reveals to Oscar that she prefers revenge over money. In the end, she tries to rekindle her relationship with Oscar in the penthouse (but he's not there), but ends up with Crazy Joe instead. In the film, she is voiced by Angelina Jolie (who would later go on to voice Tigress from the Kung Fu Panda franchise and play Maleficent from the live-action Disney film of the same name).
External Links
Edit
Ad blocker interference detected!
Wikia is a free-to-use site that makes money from advertising. We have a modified experience for viewers using ad blockers

Wikia is not accessible if you've made further modifications. Remove the custom ad blocker rule(s) and the page will load as expected.