Ad blocker interference detected!
Wikia is a free-to-use site that makes money from advertising. We have a modified experience for viewers using ad blockers

Wikia is not accessible if you've made further modifications. Remove the custom ad blocker rule(s) and the page will load as expected.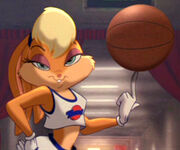 Lola Bunny
is the current love interest of
Bugs Bunny
in
Looney Tunes
media, starting with the 1996 film
Space Jam
. She is a tawny rabbit with blonde hair (cream-colored in
Space Jam
) who can play basketball. Features vary in
Space Jam
and in her promotional image. It is a mascot of her who promoted the WNBA.
Space JamEdit
"Don't ever call me doll!"
Lola appears out of nowhere as the only Toon who knows how to play basketball. After Bugs and the other Toons challenge the Monstars to a basketball game, they summon Michael Jordan. When Michael sees how inexperienced they all are, Lola offers to join the team. Bugs immediately falls in love with Lola and tries to woo her with little success.
During the basketball game, Lola holds up her own, never suffering any major injuries like the other Toons. When one of the Monstars nearly crushes her, Bugs heroically pushes her aside and takes the hit. Lola is so touched that Bugs would come to her rescue that she kisses him. Eventually at the end of the film, Bugs and Lola share another kiss and officially become a romantic couple.
The Loony Tunes Show
Edit
She returns in The Looney Tunes Show, with her personality completely altered with her as a ditzy girl who annoys Bugs, but he still loves her.
Space Jam
Edit