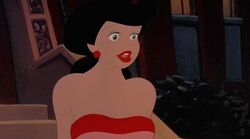 Lonette is one of the main characters of the 1992 animated comedy, live action film, Cool World. She is a doodle and works as a waitress. She is also the main love interest of Frank Harris.
Personality
Edit
Unlike Holli who is evil, Lonette is kind and sweet.
Appearence
Edit
She is shown to have a similar appearence towards Holli Would in some physical and facial features. However, the differences between them is Lonette has black hair in a ponytail, red lipstick and wears a red dress with a pink stripe on it.
Relationships
Edit
Frank Harris
Edit
During the years sometime after Frank is transported to Cool World, he meets the doodle Lonette. While not much information regarding the history of their relationship is revealed, Frank and Lonette met and fell in love. They are in a serious and committed relationship, but they are unable to consummate their relationship due to the Cool World law that a doodle and noid are not allowed to have sexual intercourse. Aside from the law, their relationship is slightly strained as Frank is constantly on the job and has to be called away whenever they are on a date together.
In order to mend his relationship with Lonette, Frank asks his partner Snails to take on more responsibility while he temporarily leaves his duties as a detective to spend more quality time with Lonette. Frank visits the resuturant where Lonette works and stops a doodle from harassing her and they begin to spend time together. However when Frank learns that Holli Would had sex with Jack Deebs and they've escaped to the real world, Frank has to return to the real world to find and stop them. Lonette is against Frank leaving, afraid he wants to return and may never return to Cool World, but he assures Lonette, revealing the only place that is real and where he truly cares for is Cool World with Lonette.
Later as Frank begins his preparations to leave for the real world, Frank and Lonette walk together, soon sharing a hug goodbye before he departs. Later, after Frank manages to save Cool World, a deceased Frank and Snails return to Cool World and reunite with Lonette. Heartbroken, Lonette begins to grieve for Frank's death until she remembers another Cool World rule: when a doodle kills a noid in the real world, they are born again as a doodle. Frank returns to life as a doodle and he and Lonette reunite, thus allowing them to continue their relationship and finally have sexual intercourse together.
She is voiced by Candi Milo.
Lonette nicknames Frank "Frankie".
She is a rival to Holli Would, although there is no interaction between them throughout the movie or even mention of their relationship.
Frank nicknames Lonette "Lonnie".
Ad blocker interference detected!
Wikia is a free-to-use site that makes money from advertising. We have a modified experience for viewers using ad blockers

Wikia is not accessible if you've made further modifications. Remove the custom ad blocker rule(s) and the page will load as expected.