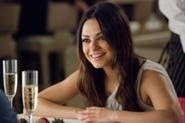 Lori Collins is the tritagonist of the first Ted movie. She is John's former love interest and later ex-wife.
She is portrayed by Mila Kunis who voiced Meg Griffin in Family Guy and played Jackie Burkhart from That 70's Show from when she was fifteen years old.
Her Story
Edit
At first, she did not want having Ted around any longer. Eventually when Ted lost his life, she had a change of heart.
Lori still decided to live with John Bennett and wished for her old life back again one night and Ted was brought back to life. At the end of the movie, she and john got married.
She did not return for the sequel Ted 2. John reveals to Samantha that Lori kept trying to change him into something he was not, which made him realize that although he loved her, they seemed to be wrong for each other; so they ended up getting a divorce.
She was replaced by Samantha Jackson.
Mila Kunis did not come back to play Lori because she was pregnant. In an early draft of the script, someone mentions that Lori died between the two films. That idea was considered too depressing, so it was changed to John and Lori getting divorced.