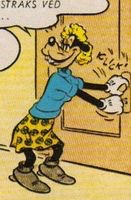 Lulubelle was Goofy's girlfriend who only appeared in a Mickey Mouse daily strip on January 21, 1945, often as the minor character.
Lulubelle is a woman whose lover is Goofy. But then he does not dare tell her his feelings, the anthropomorphic dog asks Mickey Mouse to speak in his place. Unfortunately for Goofy, Mickey said such rhetoric to Lulubelle the young woman falls in love with him, not goofy!
Behind the scenes
Edit
She only appeared in a "comic strip" Mickey Mouse written by Bill Walsh and drawn by Bill Wright and published for the first time on 21 January 1945. To date, the story is still unpublished in France.
Ad blocker interference detected!
Wikia is a free-to-use site that makes money from advertising. We have a modified experience for viewers using ad blockers

Wikia is not accessible if you've made further modifications. Remove the custom ad blocker rule(s) and the page will load as expected.