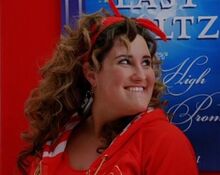 Martha Cox is a brainiac who also has a passion for hip hop dancing in the High School Musical Trilogy. She is best friends with Taylor McKessie and Kelsi Nielsen. In High School Musical 2 she was briefly the love interest of Ryan Evans, but in the original final installment she became the love interest of Jason Cross.
High School Musical
Edit
Martha was a fellow member of the Scholastic Decathlon with Taylor McKessie and the newcomer Gabriella Montez. She was one of the groups who were stuck In a phase known as Status Quo. During lunch after Gabriella and Troy got a callback, Status Quo started to break as people in the cafe began telling their secrets like Zeke Baylor, one of Troy's friends and fellow teammates on the basketball team who also loves to cook. She took part by saying that she has a passion for hip hop. However her fellow brainiacs told her to stick to staying smart.
But soon after the Wildcats basketball team and her team won have they began to celebrate. At that point, Status Quo was completely broken.
High School Musical 2
Edit
During summer vacation she along with the other Wildcats were invited to work at the Lava Springs country club. When the talent show was coming, Martha was a part of the performers to do a number from Ryan Evans who was left out after her sister Sharpay Evans stole the song Troy and Gabriella was originally going to perform. Somewhere at that point, Ryan and Martha developed a relationship. At first the idea of performing in the talent show was ruined when Sharpay had Mr. Fulton the manager make the Wildcats work on the night of the show. But it was only until Troy who promised he would sing with Sharpay if the Wildcats could perform as well that the idea went through as Sharpay agreed. Once the performance went well and they won. They were able to enjoy the rest of the summer as Ryan enjoyed it with Martha.
High School Musical 3
Edit
During senior year at some time, Ryan and Martha's feelings weren't mutual and they ended up as close friends again. Martha was helping Taylor with senior events as well as being a Cheerleader for the Wildcats Basketball Team in which they won the championship again. Martha also became part of the show known as Senior Year. While hanging up posters with Jason they ended up going to the prom together and after the show, they were able to graduate as they went to college presumably still in a relationship.
Ad blocker interference detected!
Wikia is a free-to-use site that makes money from advertising. We have a modified experience for viewers using ad blockers

Wikia is not accessible if you've made further modifications. Remove the custom ad blocker rule(s) and the page will load as expected.