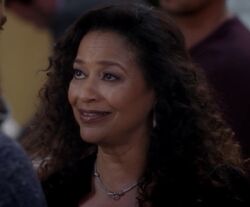 Catherine Avery is a major reccuring character of the medical drama romance series, Grey's Anatomy. She is a famous Urologist and is the Head of the Harper Avery Foundation. She is also the mother of Jackson Avery and is the main love interest of Richard Webber.
Grey's AnatomyEdit
Season Eight
Edit
Season Nine
Edit
Season Ten
Edit
Season Eleven
Edit
Season Twelve
Edit
Season Thirteen
Edit
Season Fourteen
Edit
Relationships
Edit
Richard Webber
Edit
Richard Webber is one of the original main characters of the series and Catherine's main love interest.
Robert Avery
Edit
Robert Avery is Catherine's ex-husband
Thomas Koracick
Edit
Thomas Koracick is a neurosurgeon who had a previous romantic relationship with Catherine.
Promotional
Edit
She made her first appearance in season eight.
She and Richard became a couple towards the ending of the eighth season.
Catherine's son Jackson was originally against Catherine and Richard's relationship.
Many people believe she is similiar to Miranda Bailey.
Catherine and Richard get married by the end of season eleven.
Catherine goes back to her maiden name Catherine Fox in season fourteen.
External Links
Edit