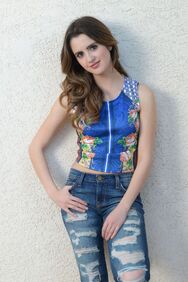 Maxine Jenkins is one of the two main fictional characters in the book series The Fabulous Jenkins Girls. She is the younger sister of Sydney Jenkins and the love interest of Keith Cooper.
Maxine is a fun-loving teenager with a fesity personality. She loves fashion, celebrity gossip, boys, and trashing Queen Bee Sage McConnell with her best friend, Echo Ross. Making her a polar opposite of her sister, Sydney.
When the fall semester of school, Maxine started her freshman year, along with Echo, her older sister, Sydney starts her junior year.
The Fabulous Jenkins GirlsEdit
External Links
Edit