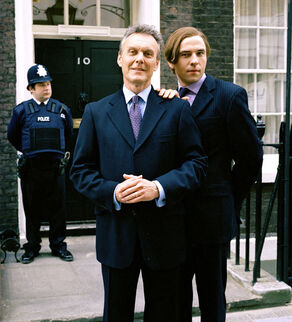 Michael Stevens
is the Prime Minister in
Little Britain
.
Biography
Edit
Michael is loosly based on Tony Blair, who was Prime Minister around the same time Little Britain aired. He's frequently frustrated by his aide Sebastian, fellow politicians and various tabloids, all of whom are portrayed as incredibly bizarre.
By the end of the series, the Prime Minister has retired from politics amid scandals and low popularity in order to spend more time with his family. Its eventually revealed that he's bisexual.
Despite having a wife, the Prime Minister has had several romantic relationships, including a sex scandal in his younger days. Below are the relationships he had during the series.
Sebastian Love
Edit
Sebastian is the Prime Minister's aide. He has an obsessive crush on him and isn't shy about it, going as far as to strip naked in front of the PM. He's also hostile towards the Prime Minister's wife and any of his colleagues. For some reason the PM doesn't pick up on this. In the series 2 finale, Sebastian finally kisses the Prime Minister.
In Little Britain USA, Sebastian is now the PM and has moved his affections onto the US President.
Gregory is the Prime Minister's second aide. Sebastian suspects Gregory has a mad crush on the PM, which he ironically has. Its later revealed that both Gregory and the PM are lovers.
The President of the United States
Edit
In Little Britain Abroad its revealed that the Prime Minister has been having a love affair with the President.