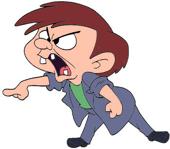 Montana Max is the (unrequited) love interest of Elmyra Duff on Tiny Toon Adventures. Although he abhors Elmyra (and states he'd rather either eat dog food or get a lobotomy than go on a date), he does personally tell himself he's in love at the end of the episode My Dinner with Elmyra.
Relationship with Elmyra
Edit
In an earlier episode, Prom-Ise Her Anything, after many attempts to refuse to go to the prom, especially with Elmyra, he eventually pretends to give up just to stop her from squeezing him, so he can steal a truck and head for Rio de Janeiro for some other party. Although he is angry with Babs and Buster Bunny for forcing him to come anyway, he develops a crush on Dizzy Devil's tempting date Mitzi. As he tries to pounce on her, Buster yanks her away and Babs pushes Elmyra over so she can catch him. After Monty breaks Elmyra's heart, he tries dancing with Mitzi, but she rejects him, telling him the exact hurtful words he said to Elmyra, causing him to regret what he said. He then decides to dance with Elmyra, but when she forcefully takes him with her, he regrets that saying.
There are a few times when Montana Max is nice to Elmyra, while there was one time Elmyra was mean to him; the latter, however, was justified because Monty had plagiarized one of her scripts.
Replacement
Edit
For unknown reasons, Montana Max, never appearing in the Tiny Toons/Animaniacs spin-off, Pinky, Elmyra, and the Brain, was replaced as Elmyra's love interest by Rudy Mookich.
In the entire series, Monty is voiced by Danny Cooksey, starting at the age of 14.
Also, in "It's Buster Bunny Time", it is shown that Elmyra has a big family, while in its second wraparound, not only does Elmyra develop a crush on Monty, so does her entire swarm.
Considering Elmyra isn't intentionally evil (as her deeds are out of love), it is undecidable whether Montana Max should go to the Villainous Love Interest category or the Evil Love category.