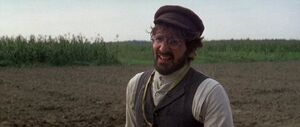 Motel Kamzoil is the love interest of Tzeitel, the eldest of Tevye's daughters, in the musical Fiddler on the Roof and its film adaption, though Tevye happened to be supposed to marry a butcher named Lazar Wolf. Ever since childhood, Motel and Tzeitel have been in love, and then they had given each other a pledge that when they were older they would marry. He is a poor tailor who also loves Tzeitel (as shown when he begs Tevye not to make her marry Lazar) and later marries her. Motel is played by the late Leonard Frey in the film.
Ad blocker interference detected!
Wikia is a free-to-use site that makes money from advertising. We have a modified experience for viewers using ad blockers

Wikia is not accessible if you've made further modifications. Remove the custom ad blocker rule(s) and the page will load as expected.