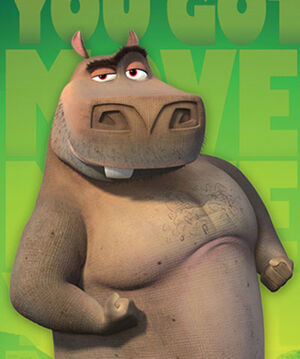 Moto Moto is the love interest and mate of Gloria in Madagascar: Escape 2 Africa. He is a huge hippopotamus and is popular among females. They meet along side a pond and gloria is drinking and they kiss as he lies on her belly and after a few dates while in Africa, Gloria soon pulls out his manhood and the two hippo make out in the pond and a month after they meet gloria and moto moto mated and laid in the pond.
Moto-Moto is voiced by will.i.am.
"Moto" means "hot" in Swahili.
Ad blocker interference detected!
Wikia is a free-to-use site that makes money from advertising. We have a modified experience for viewers using ad blockers

Wikia is not accessible if you've made further modifications. Remove the custom ad blocker rule(s) and the page will load as expected.