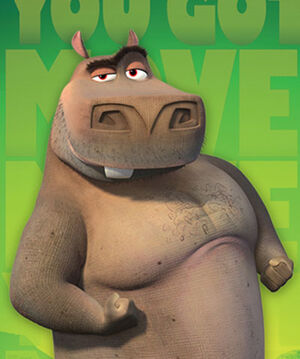 Moto Moto is the former love interest of Gloria the Hippopotamus in Madagascar: Escape 2 Africa. He is a huge hippopotamus and is popular among females. They date while in Africa and enjoy it, that is until Gloria learns that all he likes about her is her fat belly (in fact, only fat, thick, plumpy and big female hippos attract him; the bigger, the better for him), so they break up, but remain friends.
Moto-Moto is voiced by will.i.am.
"Moto" means "hot" in Swahili.
Ad blocker interference detected!
Wikia is a free-to-use site that makes money from advertising. We have a modified experience for viewers using ad blockers

Wikia is not accessible if you've made further modifications. Remove the custom ad blocker rule(s) and the page will load as expected.