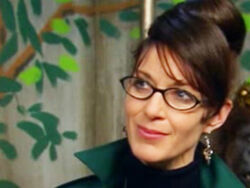 Mrs Gideon is the love interest of Howard Moon in the first series of the British 2004-2007 comedy series The Mighty Boosh.
She was played by Victoria Wicks.
Mrs Gideon was first mentioned in the radio series The Boosh where she was said to be Howard's bandmate and lover, until the smooth talking Rudy Mancheigo (a precursor to the character of Rudi van DiSarzio) wooed her with empty wisdoms.
In the TV series, Mrs Gideon was the Head of Reptiles at the Zooniverse, the same zoo Howard and his friend Vince Noir worked. She was the chief love interest of Howard but as she could not remember his face, his love went unrequited. She was, however, interested in Vince, admiring his paintings, remarking that Vince's portrait of Howard (a featureless face atop a Zooniverse uniform) looked just like him, and going to Vince when her snake was stolen by the zoo's owner Dixon Bainbridge, much to Howard's disgust and envy.
Ad blocker interference detected!
Wikia is a free-to-use site that makes money from advertising. We have a modified experience for viewers using ad blockers

Wikia is not accessible if you've made further modifications. Remove the custom ad blocker rule(s) and the page will load as expected.