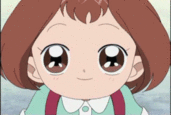 Mutsumi Kudo is a friend and classmate of the ojamajo. She stars in two episodes, "I want to be a female Pro-wrestler" from season 1, and "" from Dokkan. During the final three seasons of the series, Mutsumi is in Doremi, Momoko's, andHana-chan's class.
Mutsumi is a gentle girl with a not-so gentle love of wrestling and love of female pro-wrestler Candy.
She has an ambiguous relationship with a friend and classmate, Takeshi Hasebe. Given her reactions around him, she may harbor feelings for him.
In the dub Mutsumi was renamed Melissa.
Ad blocker interference detected!
Wikia is a free-to-use site that makes money from advertising. We have a modified experience for viewers using ad blockers

Wikia is not accessible if you've made further modifications. Remove the custom ad blocker rule(s) and the page will load as expected.